Along with the development of the power grid system and power network in recent years, cable trunkings are gradually more important. Therefore, it has become the solution chosen by many engineers to save space and optimize investment costs for the project. Besides, it also offers safety assurance, easy management of power lines, and many advantages over other conduits. Learn more about the benefits of cable trunkings in the following article.
1. What is a cable trunking?
Cable trunking with the name of electric cable trunking / electric cable trunking without punch holes.
They have been used for the installation of all kinds of wires and cables in buildings, offices, high-rise apartments, manufacturing plants, etc.
Cable trunking are troughs made of aluminum material, used to conduct power cables, network cables in residential and industrial areas. The product has two types that are perforated and non-perforated.
2. Why use the cable trunking?
Along with the development of housing projects, manufacturing plants, high-rise apartments,... The demand for cable trunkings is more and more widespread. Because the electrical cable trunking system provides safety and effective cable protection for the works.
Currently, most construction works of offices, buildings, and apartments use cable trunking systems instead of cable pipes to ensure safety, save space and costs. The outstanding features of the product are:
Safety features
High reliability       
Space-saving    
Cost saving       
Material saving       
Maintenance cost savings
Economical installation time and cost
3. Common types of cable trunkings
3.1. Aluminum cable trunking
An aluminum cable trunking is in the category of cable trunking with high-grade aluminum fabrication material for electrical wiring and installation. Therefore, this product is chosen by many customers for civil works. Besides, the product has many outstanding advantages in manufacturing cable trunking ladders, such as:
Aluminum is used a lot because of its lightweight, easy to move, and install
Aluminum is resistant to rust, anti-oxidation in a humid atmosphere
Aluminum material with shiny, smooth surface helps to increase aesthetics
Aluminum cable trunking with alloy coated with an electrostatic coating to ensure safety for users and longevity high.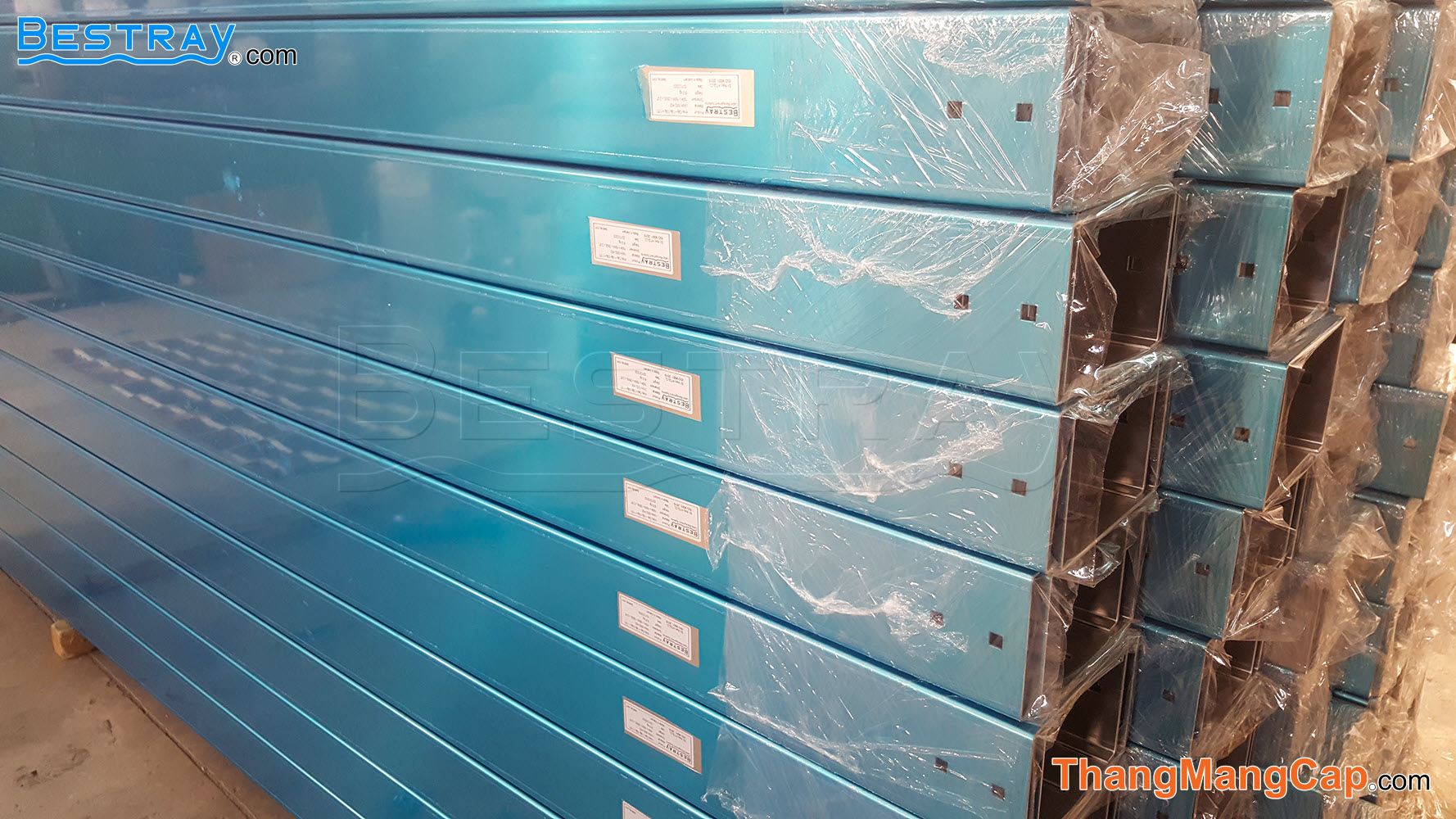 3.2. Powder-coated cable trunking
A powder-coated cable trunking is a conduit installed to store electrical wires, cables, and information wires of buildings and apartments. In addition, this type of product is a specialized device that supports electrical cables to insulate them to make the work safer and more scientific.
Today, electrostatic painting technology has been widely used and favored by customers because of its low cost, low toxicity in the painting process, high durability, and high aesthetics. They will be finished with an electrostatic coating before being produced on the market. This electrostatic paint layer will have the ability to insulate to ensure maximum safety for users. Moreover, the electrostatic layer also prevents oxygen, corrosion, and longevity for cable trunkings.
3.3. Galvanized cable trunkings
Galvanized cable trunkings are often widely used in projects subject to the impact of corrosive and chemical environments such as factories, factories, outdoor cable ladder installations, etc.
The galvanized electric trough will be coated with a layer of zinc on the surface to protect the trunking from rusting, oxidizing, and peeling paint surface.
Hot-dip galvanized electrical gutters are commonly used for outdoor installations and construction works in highly corrosive environments. The molten zinc layer will be coated on the metal surface of the electric trough to create a durable protective layer. Moreover, this zinc coating will resist corrosion, rust, resist the influence of steam, direct sunlight from the environment.
3.4. Plastic cable trunking
A plastic cable trunking is a device used to support, arrange and manage construction lines. This type of trunking has the function of protecting the power line from scratches, tearing the cover, and ensuring the safety of the construction workers.
The outstanding features of this type are to help the grid system limit damage, scratches and save construction time. In addition, the shape of the electric trough is simple, sturdy, and the material is light, making it easy to transport.
3.5. Stainless steel cable trunking
The stainless steel cable trunking is made of 304 stainless steel, with high durability, shiny surface, and durable over time. With stainless steel material, the product is able to withstand high heat and can be used in harsh environments.
Its use is to help lift and install power lines, power cables, and communication cables to become more organized and easier to manage. Currently, the product is widely used by many civil engineering projects across the country.
3.6 . Zam galvanized steel cable trunking
Alloys of Al (aluminum), Zn (zinc), and Mg (Magnesium) with the exact content of Al (6%) and Zn (3%) to improve product durability. It can be said that Zam galvanized steel cable trunking has superior anti-corrosion properties compared to other cable trunkings.
Cable trunkings are made from galvanized steel, Zam corrugated iron is resistant to corrosion of steel materials in environments with many corrosive elements to steel. Ton Zam is covered by a thin coating capable of protecting steel materials better than conventional paint. Therefore, making the product durable, long-lasting, and environmentally friendly.
In addition, Zam galvanized steel cable trunking is plated according to a closed, advanced technical process, heated, and cooled according to a very strict thermal cycle. Bestrunking's Zam zinc corrugated iron always has the characteristics, structure, and product surface uniformity, shine, and outstanding corrosion resistance.
4. Common sizes of cable trunkings
4.1. Cable trunking 200x100
Cable trunking 200x100 (cable trunking 200x100, trunking 200x100) is a commonly used size in construction projects. This product line is usually fixed in technical boxes placed in the house.
Its advantages are small size, easy to transport and install in a small range. Besides, the size 200x100 also has good flexibility of application, reasonable price for civil works and residential areas.
In addition, the materials that make up this electric trough are usually powder-coated, galvanized steel. When choosing to buy this cable trunking, buyers should note that it comes with accessories such as a 200x100 cover, horizontal elbow,...
4.2   Cable trunking size 300x100
Cable trunking 300x100 is also chosen and widely used by many customers. This type of product is often used for installation and construction in the cable trunking ladder system in export processing zones, factories, factories, power grid works,...
The installation of cable trunkings with size 300x100 helps reduce installation and construction costs for the entire system. Besides, allowing the installation to become quick and convenient. The 300x100 cable trunking also creates flexibility between the power line and the signal wire to bring high aesthetics to the whole building.
4.3  Cable trunking size 600x100
Cable trunking 600x100 is often used to arrange and manage electrical cables, wires, network cables, ... for large projects. It helps to ensure a high level of safety for each operation. The size of the electric trough 600x100 also makes the addition, maintenance, and troubleshooting easy and quick, saving time and costs for installation and use.
5. Standards for cable trunking
Electrical cable trunking standards are regulated and promulgated based on technical quality, production standards, and performance in design and construction. If you are in need of learning about trunking, these standards cannot be ignored.
5.1 North American Standards (NEMA VE1-2017, CSA C22.2 No 126.1)
NEMA VE1-2017 (USA) and CSA C22.2 No 126.1 to define manufacturing, performance, and testing standards for ladder systems cable trunkings. These two standards are a publication written by the CANENA Technical Harmonization Committee for metal cable ladders to establish guidelines for the production and testing of cable trunking systems.
5.2 European Standard (IEC 61537:2006)
IEC 61537:2006 (International Electrotechnical Commission) is the International Electrotechnical Commission. This standard gives requirements and tests for cable trunking systems and cable ladder systems designed for the support, storage of cables and other electrical equipment in electrical installations.
The IEC 61537:2006 standard does not apply to conduit systems, cable conduit systems, and cable conduit systems.
5.3 Vietnam National Standard (TCVN 10688:2015)
TCVN 10688:2015 is cable management - cable network installation system and cable ladder system. Vietnam National Standard is equivalent to IEC 61537:2006 standard.
In addition, there are other standards such as standard of anti-corrosion, fire hazard, coating, galvanized,.....
Thickness standard. of paint layer, TCVN 9760:2013 (ISO 2808:2007) is a method to determine paint film thickness. Besides, for hot-dip galvanizing, there will be TCVN 5408:2007 standard which is completely equivalent to ISO 1461:1999. TCVN 5408:1991 specifies requirements and methods for galvanized coatings (not containing > 2%) on the same iron and steel products.
Cable trunking products have many different sizes and materials, so the standards for production methods, length, and width will also be different. Bestrunking with modern production lines, operating continuously to bring to customers the equipment of international standards. Customers can rest assured that choosing our products will meet the conditions of your project.
6. Some notes when installing & constructing cable trunking
Cable trunking has many advantages compared to other types of conduit because it is sturdy, ensures safety, easy to manage equipment when in use. However, the works should pay attention when installing & constructing cable trunkings to achieve the best effect. Below Bestray will share the necessary knowledge when installing.
Note 1: Choosing a good cable trunking
The choice depends on the installation conditions such as indoor, outdoor, working environment, .... to choose the right type of cable trunking system to save investment costs.
Note 2: Check the quality of cable trunking ladder parts and accessories
Quality control is an extremely important step in construction. This will help to immediately remove poor-quality materials and accessories. At the same time, it helps the construction and installation of cable elevators take place quickly, safely, and effectively.
Note 3: Calculate the exact location to install
This step also plays an important role in installation and construction. Because if a beautiful product is not installed correctly, it is not safe to use. Moreover, it is also wasteful and time-consuming to construct.
Note 4: Perform installation according to the correct procedure
7. Cable trunking manufacturing process
Nowadays, a cable trunking is an important device widely used in the installation of electrical systems in works to arrange, manage and protect the transmission lines without affecting them. directly from the external environment. But what is the manufacturing process like?
To help you better understand and add to your product knowledge, Bestray will detail 7 steps in the process as follows:
Step 1: Calculate the dimensions for the cable trunking
Step 2: Select the type of material and treatment method. suitable product surface treatment
Step 3: Calculate the correct size to cut the workpiece
Step 4: Perform CNC punching according to the product's requirements
Step 5: Bend, fold the electric chute and shape the product
Step 6: Clean, wash, and treat the surface of the electric trough
Step 7: Check, pack and hand over to the customer
8. Company introduction
Bestray Joint Stock Company with more than 15 years of experience specializes in consulting, manufacturing, trading, and service in the electrical industry. We are trusted by many investors, construction companies, electrical works, and high-rise apartments. And has become the leading professional manufacturer and supplier of cable tray ladders, mesh trays all over the country.
To avoid buying low-quality products, you should choose reputable places, be committed to quality, and have verification documents. Bestray is a reliable manufacturer and supplier of cable trays and accessories for many years. We bring to customers products that are reputable, reasonably priced, in accordance with international standards, and contribute to creating sustainable construction values.
The price list of cable trays on the market with other units does not have a big difference. However, depending on the type of product that the customer chooses, the price of the product may fluctuate. Bestray Joint Stock Company always gives customers quality products and clear, detailed product quotes, and most reasonable prices. Click here  for more information and products of our cable tray price list.


Besides, customers can also learn more about other products such as cable trays, cable trays, accessories of cable trays that Bestray currently supplies.
If you want more detailed information, please feel free to contact us.
Bestray JSC
Address: 180/7A, Tan Thoi 3 Hamlet, Tan Hiep Commune, Hoc Mon District, Ho Chi Minh City
Open at 7:30 - close at 17:00
Phone: 0909 089 678
Email:
info@bestray.com
sales@bestray.com