Bestray cable tray – High quality cable tray
Cable tray is an important device that is widely applied and popular for all projects. However, many people are still confused, do not know what cable tray is?
Through this article we will provide you with useful information about them. Stay tuned with us.
What is a cable tray?
Often referred to as "trunking" or "solid bottom cable tray", is a closed, metal, rectangular cable tray system, consisting of a trough body and a trough cover. Removable trough cover or side hinged form (small size). The cable tray system is assembled continuously by straight bars and fittings such as contraction, numbness, up, down… between electrical cabinets or electrical cabinets to equipment using electricity. Cable trays are used to conceal, protect the mechanical impact of electrical cables, prevent dust or water ingress on the path. Sometimes cable trays are also used to support pipes to increase aesthetics (refer to wikipedia).
It is basically used in wiring that supports insulated electrical cables used for power distribution and communication in buildings. Used more in commercial and industrial construction. This cable tray is actually an alternative to electrical conduit or say 'open wiring' in a folk term! Thus, in terms of safety and assurance, cable tray ladders have become one of the mandatory requirements when it comes to power supply systems.
Why use cable tray?
Cable tray system will bring safety and effective protection for current and future power lines.
Decisions related to cable system installation should be made when designing and constructing transmission line infrastructure in order to maximize cost savings.
Cabling systems often do not have features to simplify the needs of changing and expanding as needed or ensure absolute safety for users and surrounding equipment.
Therefore, most people now apply cable trays to replace cable pipes in the construction of cable systems to ensure safety, reliability as well as save space and costs. Here are the outstanding features of cable trays compared to cable pipes:
• Safety features
• Reliability
• Saves space
• Saves costs
• Saves design costs
• Saves materials
• Saves time and costs on installation
• Saves on maintenance costs
Types of cable trays:
Aluminum Cable Trays (A5052-H32):
We have been regarded as one of the most Trusted Cable Trough Manufacturers in Vietnam, engaged in the supply of Aluminum Cable Trays. This aluminum cable tray is known for its high quality and excellent performance such as times lighter than steel (if the same strength) shortens installation time, superior corrosion resistance compared to dipped galvanized steel hot. Moreover, customers can avail this product from us at the most competitive price. Before the end of delivery, these products are rigorously tested to various specifications.
We, as well as cable tray manufacturers around the world, always choose aluminum alloy sheet Series A5052-H32, because it has suitable mechanical and mechanical properties for cable tray production such as: high rigidity (60HB) but still ensure folding bending is not broken, malleable, easy to weld…

You should note, currently on the market appear many manufacturers of cheap aluminum cable trays, mainly using aluminum brands such as Series A1050-H14, A3003-H14. These aluminum grades have low mechanical properties, are very soft, flexible and easy to deform (hardness is ½ compared to A5052-H32), only suitable for trough cover, not suitable for trough body. If the body is made, the load carrying capacity is not high, very weak, and ineffective. The price of finished products is usually 30% cheaper than A5052 aluminum of the same size. It is very difficult to distinguish these types of aluminum with the naked eye, the only way is to use an aluminum hardness tester (aluminum hardness pliers).
Powder Coated Cable Trays:
Compared with aluminum cable tray, powder coated cable tray has the advantage of being cheaper. Powder coated cable trays use billet materials such as hot rolled steel (JIS G3131-SPHC or ASTM A1011), cold rolled steel (JIS G3141-SPCC). Powder coated cable trays have high aesthetics, used for indoor installation (Indoor use only), but can also be specially coated to prevent corrosion and fire (required). Due to the coating being an organic compound, it is an insulator, so to ensure electrical continuity (safety of earthing) when using powder-coated cable trays, it is necessary to use bridges at the junctions. grounding and bolts need additional washers in the middle of the contact point. Depending on the applicable Standard (NEMA or IEC) will require different levels of contact resistance, need to consult the manufacturer for correct installation. Powder coated cable trays are also diverse in color to create aesthetics for the project.
Galvanized Steel Cable Tray (Pre-galvanized steel sheet)
Galvanized corrugated iron cable trays are available at the lowest cost of all materials and finishes. Galvanized steel cable trays using billet materials such as JIS G3302-SGCC Z12 are always available in the market. Zinc grade Z12 means that the zinc bond mass is 120 g/m2 on both sides, so there will be an adhesive zinc thickness on one side of 120/7.2/2 = 8.3 µm.
Galvanized corrugated iron cable trays are cheap, have high aesthetics, quick processing time because they do not need to be finished and are only used for indoor installation (indoor use only), often used in industrial applications. civil and commercial works
Hot Dip Galvanized After Fabrication
There are two types of corrugated iron used to process cable trays: hot rolled corrugated iron (JIS G3131-SPHC, ASTM A1011) and cold rolled corrugated iron (JIS G3141-SPCC, ASTM A1008).
Hot-rolled corrugated iron with dark blue-black color, also known as black corrugated iron, has a rough surface, a billet thickness of 1.2mm or more, and has a hardness of about 20% softer than that of cold-rolled corrugated iron. The mechanical and physical properties are suitable for hot-dip galvanizing and it is easy to process the desired coating thickness (ASTM A123), so hot-rolled corrugated iron is always chosen to make hot-dip galvanized cable trays.
Cold-rolled corrugated iron is bright white, has a smooth surface, has a thickness of 0.15~2mm, is usually harder and costs 15~20% higher than hot-rolled corrugated iron. Due to the smooth, hard surface and the addition of a protective oil layer, the hot-dip galvanizing treatment takes longer, and the zinc is more difficult to adhere to.
Unlike powder coated cable tray or pre-galvanized corrugated iron, it can be machined in thin thicknesses such as 0.6, 0.8, 1.0mm. Due to the characteristics of shrinkage, warping, warping, deformation due to temperature after hot dipping and especially for products with wide surface such as cable tray body and tray cover, hot-dip galvanized cable tray must have The minimum thickness is minimum 1.2mm for small troughs like 50W~100W and minimum 1.5mm for 200W or more troughs.
According to the American standard ASTM A123, the coating thickness (one side) is 45µm on average for corrugated iron less than 1.6mm thick; average thickness of 65µm for corrugated iron with thickness of 1.6mm or more.
There are two types of hot-dip galvanizing after processing for cable trays: hot-dip galvanizing in the tank applied to the body, lid, shrink, numbness, large support… and centrifugal rotation (dipped zinc finished). put into the rotating cage) is applied to small-sized assembly accessories such as shackles, hanging clamps, connecting bowls, bolts, etc.
Cable trays, after being sent for hot-dip galvanizing processing at a third party, will be carried. return to the Company to be honed three zinc socks, fixed the dents caused by mechanical impact during the dipping process, sprayed with zinc paint to patch peeling, scratches, clean, label, close packaging and storage.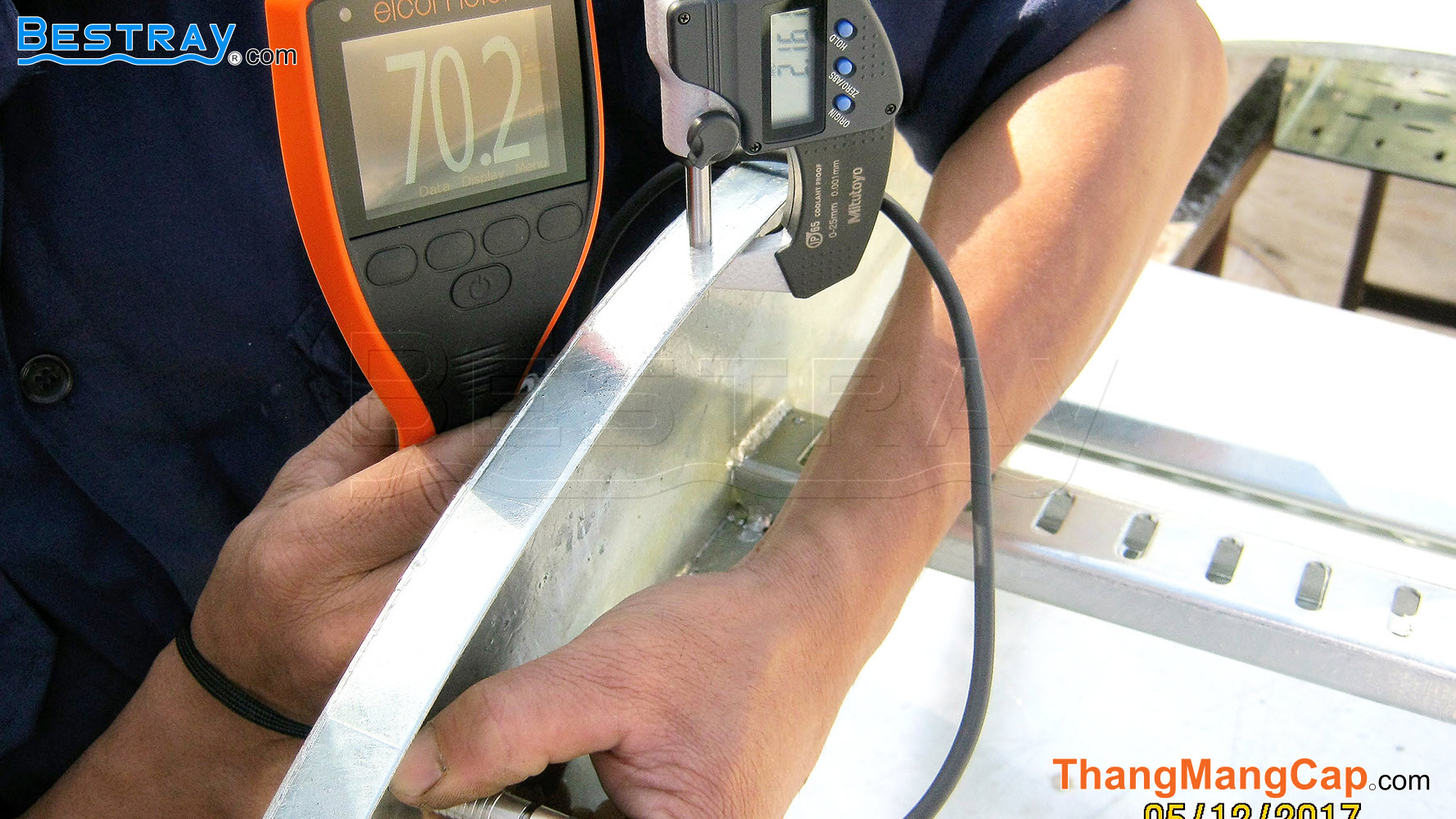 All hot-dip galvanizing processes are closely monitored by us to ensure that the product is not defective when delivered to the customer. Compared with finishes, hot-dip galvanizing takes the longest to process.
Stainless Steel Cable Tray:
Stainless steel is a material made from an alloy of iron with a certain chromium content. As a result, the material should be bright white, durable and excellent corrosion resistance over time. Stainless steel is also known as stainless steel.
On the market today, there are many types of stainless steel used to make cable trays such as: stainless steel 201, stainless steel 304, and stainless steel 316. In which stainless steel 201 has the cheapest price, named "stainless steel" but actually very good. easy to rust in wet, acidic, alkaline environments and not for outdoor use. In fact, in the world, professional cable tray ladder manufacturers do not use Type 201 stainless steel to produce cable tray ladders because its rationality is not suitable for the harsh environment of industry as corrosion resistance is the standard. Priority criteria are selected but not met. Stainless steel 201 is only suitable for use as decorations, household items (tables, chairs, cabinets, beds, shelves …) with the criteria of cheap but flashy 304 stainless steel.
The main "stainless steel" raw material of Bestray used to make cable trays is Inox 304 and Inox 316, in which 304 stainless steel is used quite commonly. We are committed to using the correct grade of stainless steel 304, 316 that you require, do not mix stainless steel 201.
The effect of this cable tray is to help support and install the power line system, electrical cable system. , communication cables become neater and easier to manage. In addition, they also protect the absolute safety for users and installers.
 ZAM Iron Cable Tray, Super Corrosion Resistance
Like pre-galvanized steel sheet (99% zinc), ZAM ® is a premium super anti-corrosion galvanized steel brand that Nippon Steel has successfully commercialized for the first time in the world with the formula 91%. Zinc – 6% Aluminum – 3% Magnesium.
Due to the action of magnesium and aluminum, ZAM ® branded products are super anti-corrosion, scratch-resistant, self-healing cuts and can be applied in different fields. With zinc grade K27 will give superior corrosion resistance compared to traditional 65µm hot-dip galvanized products (equivalent to 85µm life). Therefore, ZAM corrugated iron is used as a cable tray for outdoor installation, coastal areas, etc., replacing traditional hot-dip galvanizing with the same cost but faster processing time.
BESTRAY JOINT STOCK COMPANY
Office/factory: 180/7B, Tan Thoi 3 Hamlet, Tan Hiep 25 Street, Tan Hiep Commune, Hoc Mon District, HCMC
Hotline: +84 909089678. WhatsApp/Zalo: +84 932568368
Website : https://bestray.com/
https://bestray.trustpass.alibaba.com/
E-mail: quoc@bestray.com, sales@bestray.com, info@bestray.com